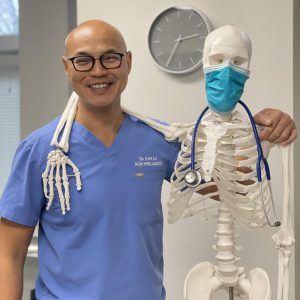 Dr. Viet Le -our Chiropractor at the TMJ Sleep and Breathe Center-has lived most of his life in the state of Virginia. He received his undergraduate degree from the University of Virginia in 1996. That is where Dr. Le ran into Dr Adams for the first time-both were UVA grads in 1996. Dr. Le received his Doctor of Chiropractic from the prestigious Life University in Marietta Georgia.
Dr. Le and Adams have partnered in creating a unique protocol to treat patients with airway, sleep, TMJ and posture problems. Airway problems have a unique impact on health where the skills of a highly trained dentist and chiropractor become necessary. In this protocol Dr. Le's expertise in correcting posture and Dr. Adams expertise in orthodontic expanders work hand in hand. The human airway, posture and overall health are strongly linked and very related. Adams' and Le's protocol is very transformative in helping people get recover from TMJ pain, sleep problems and head, neck and back tension.
Dr. Le's passion is working with his patients and helping them transform from a state of disease/pain to that of health. As a matter of everyday practice and priority, Dr. Le looks at his patients problems and determines the root cause. Because Dr. Le sees things in a holistic way, he educates his patients and performs treatments that truly correct the cause not just relieve the symptoms. Dr. Le uses a combination of conventional and alternative treatments. His practice and his training goes far beyond that of a conventional Chiropractor. For example may of our patients benefit from Dr. Le's functional medicine training.
Dr. Le does perform very selective chiropractic adjustments, but only when he has determined why the adjustment is necessary and when the supportive soft tissue and myofascial work has been completed. If the root cause of the structural problem has not been corrected, then the treatment will not be stable. That is, Dr. Le only does "corrective" treatment.
Dr. Le and Dr. Adams are very passionate about their combined protocol for patients suffering from airway problems. Airway problems are the root cause of many pathological conditions both structural and physiological. Most of Dr. Le's patients are suffering from painful symptoms such as jaw, neck and back pain. These problems are structural. Poor sleep over time  leads to immunological, metabolic and cardiovascular problems. Many of our adult patients not only have painful symptoms, but they are very sick and are in need of medical support. That is where Dr. Le's expertise in functional medicine, diet and ozone therapies becomes very helpful.
In Dr. Le's private time he loves fishing, biking and spending time with his large Family. He is also enjoys doing some artwork.